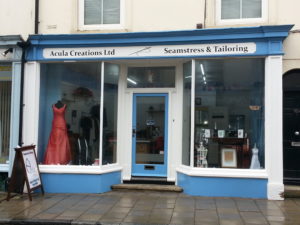 Seamstress & Tailoring
Acula Creations for clothing alterations, repairs, zips, hems, bespoke creations and redesigns. Specialists in Wedding, Prom and Occasion wear, we have quickly built a solid reputation as being experts in our field and always exceed the customers expectation.
Here at Acula Creations, we understand the demands that a 21st Century lifestyle can bring so not only do we welcome you to our High Street studio at number 95 Sandgate High Street in Sandgate Kent.  If it is easier for you, or you prefer the comfort that your home brings, then we are happy to travel to your location to carry out a free, no obligation, consultation – it's as simple as clicking an email, making a call, posting on Facebook or even sending a text – we're here for you.
Acula Creations – bringing a traditional trade into the 21st Century.
Address: 95 Sandgate High Street, Sandgate, Folkestone CT20 3BY
Phone: 07904 698960
Email: info@aculacreations.co.uk
Website: www.aculacreations.co.uk
Facebook: Acula Creations on Facebook
Twitter: Acula Creations on Twitter