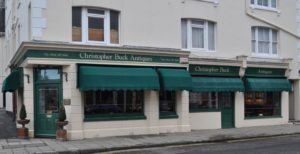 Christopher Buck Antiques
Antique shop
For over 30 years, Christopher Buck Antiques has been dealing antiques in Sandgate. They specialise in fine quality English furniture of the Georgian periods. We have built up an enviable reputation amongst the trade and our many customers around the world. They provide pieces of unquestionable originality, exceptional condition and superb colour, at fair and tempting prices.
Alongside our retail business, we provide a wide range of associated services from valuations (including for insurance and probate) to restorations, and also buy high quality antiques.
Please check their website for latest stock.
Phone: 01303 221229 / 07836 551515
Address: 56-60 Sandgate High Street, Sandgate, Folkestone CT20 3AP
Other shops in Sandgate.