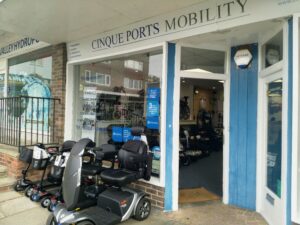 Cinque Ports Mobility
Mobility Equipment
Cinque Ports Mobility is located in Enbrook Valley also known as the Golden Valley area of Sandgate. They are the leading supplier of Mobility Products and Services across Kent. Cinque Ports Mobility has a huge selection of mobility items such as basic wheelchairs, folding and active wheelchairs, scooters and powerchairs. The company is a member of the British Healthcare Trades Association (BHTA) and was a founder member of the BSTA precursor of the BHTA and they are an NHS approved supplier.
There is an Independent Living Centre which can offer helpful advise about mobility products or independent living issues following injury or illness. They sell daily living aids to help you manage at home and keep independent. They sell household aids such as grab rails, steps and bathroom supports. Come and have a chat with their friendly team to get advise on your needs.
Due to Covid showroom is restricted to one bubble at a time. Phone to book an appointment for an assessment with a member of the team and they will be happy to help. Check out their Facebook page for new updates and new products.
Opening hours:
Monday to Friday 9 am -4pm
Phone: 01303 850760
Address: 121 Enbrook Valley, Sandgate CT20 3NE
Email: info@cinqueportsmobility.com
Other shops in Sandgate.