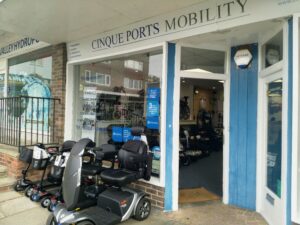 Cinque Ports Mobility
Mobility Equipment
During Lockdown Cinque Ports Mobility are continuing to provide products and specialist services into residential, private and NHS settings.  Their  manufacturers have overcome significant logistical problems to keep the product lead times down.
Cinque Ports Mobility are the leading supplier of Mobility Products and Services across Kent. At our Independent Living Centre we can offer you helpful advise about mobility products or independent living issues following injury or illness. We have a huge selection of basic,  folding  and active wheelchairs and  daily living aids. Come and have a chat or get advise on equipment. Book an appointment for an assessment with a member of out team, we are happy to help!
01303 850760
121 Enbrook Valley, Sandgate CT20 3NE
Take a look at our website
Other shops in Sandgate.