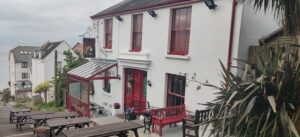 The Earl of Clarendon Inn
Pub
The Earl of Clarendon is a pub in Sandgate. It is considered Sandgate's "hidden gem" as it can be found tucked up Brewer's Hill which is along the Esplanade.
This is a historical pub with an original interior layout. It originally provided refreshment to troops as it is on a path between Shorncliffe Camp and the sea.
This Sandgate pub is also dog friendly, and has outside seating with a splendid view of the sea!
They have on offer a great selection of cask ales and lagers. The Earl of Clarendon also serves traditional home-cooked food such as pies and Sunday roasts.
Opening hours: 12 pm- 11pm
Phone: 01303 248684
Address: Brewers Hill, Sandgate, CT20 3DH
Other places to eat and drink in Sandgate.