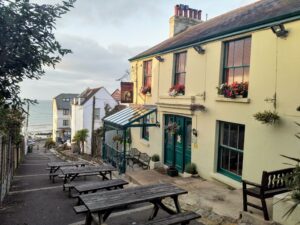 The Earl of Clarendon Inn
Pub
Due to Covid-19 restrictions The Clarendon is closed. We would like to thank all of our customers during this difficult time.
We hope that we will be able to open again next year.
The Earl of Clarendon is a  pub in Sandgate. It is considered Sandgate's  "hidden gem" as  it can be found  tucked up Brewer's Hill which is along the Esplanade.
This is a historical  pub with an  original  interior layout. It originally provided refreshment to troops as it is on a path between Shorncliffe Camp and the sea.
This Sandgate pub is also dog friendly, and has outside seating with a splendid view of the sea!
They have on offer a great selection of cask ales and lagers.  The Earl of Clarendon  also serves traditional home-cooked food such as pies and Sunday roasts.
Phone: 01303 248684
Address:  Brewers Hill, Sandgate, Folkestone, Kent, CT20 3DH
Check out our website.
Other places to eat and drink in Sandgate.