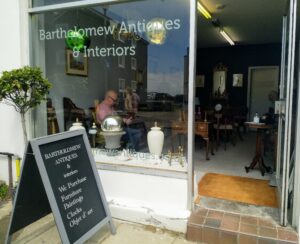 Bartholomew Antiques and Interiors
Antique shop
Bartholomew Antiques and Interiors is located on the high street in Sandgate. We specialise in quality Georgian and Victorian antiques such as  furniture and statement pieces. We have a great range of antique furniture such as tables, cabinets and chairs.  At Bartholomew Antiques we also have interesting collection pieces and some beautiful decorative items such as mirrors, lamps  and candlesticks.  We sell items that make a great addition to the home or something that is special such as a gift.
Please call or email for opening times as times can vary.
We welcome you to come and take a look around our shop. You can also view more of our Georgian and Victorian antiques online on our website. You additionally follow our Instagram page for latest stock and items.
Phone: 07947 433741
Address: 82a Sandgate High Street, Sandgate, Folkestone CT20 3BX
bartholomew.antiques@hotmail.com
Email: bartholomew.antiques@hotmail.com
Other shops in Sandgate.