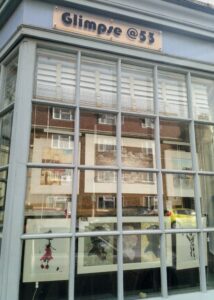 Glimpse@53 Gallery
Art Gallery
Glimpse @53  is an art gallery in Sandgate. The gallery sells a selection of prints,  paintings and photography. Inside there is a also selection of  greeting cards and interesting art pieces.
This cosy gallery sells original art works, limited edition prints and greeting cards.  Come and have a browse,  the staff are really friendly and welcoming .
Glimpse @53 is  currently the only art gallery in Sandgate which gives it even more reason  to make a visit!
They are open Wednesdays to Friday 11-4
and Saturdays 11- 5 or by appointment.
You can email them: gallery@glimpse53.co.uk
Please take a look at the website for more information. You can also look at some of the artworks currently on display and there is also an online shop.
Other creative places in Sandgate