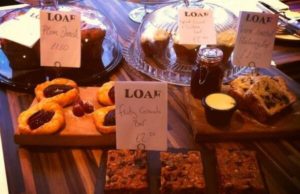 LOAF
Cafe
Loaf is still open for take-aways!
Due to the Covid- restrictions the Loaf cafe is closed but we can still provide our coffees and cakes for take- away.
Loaf is a delightful cafe in the heart of Sandgate village. Outstanding bespoke coffee with artisan sandwiches, salads and indulgent treats. We sell amazing Mochas and a wide range of homemade cakes to eat in on our comfy sofas or to takeaway to the beach!  Loaf is a relaxed cafe to unwind and catch up with friends or to get a great lunch by the seaside.
Open for breakfast, lunch, coffee and homemade cakes.
Check out our Instagram page and out Twitter page.
Opening hours: 
Mon – Fri  8am – 5pm
Sat & Sun  9am – 5pm
Phone: 01303 211235
61 Sandgate High Street, Sandgate  CT20 3AH
Other places to  eat and drink  in Sandgate.