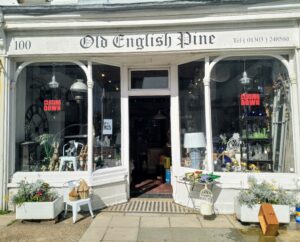 Old English Pine
Furniture / Antiques / Homeware
Old English Pine is a shop that sells quality pine furniture in Sandgate. Old English Pine also sells collectables and  accessories for your home.
An Aladdin's treasure trove with extensive showrooms that give you a huge choice to find that special item.
There is  a big selection of  old and new pine or oak French white painted furniture. You won't believe your eyes!  Everyone is welcome to browse and enjoy a complimentary cup of coffee.
So for quality Pine furniture in Sandgate simply pay a visit and prepare to be amazed.
Opening hours: 10 am – 5pm
Phone: 01303 248 560
Address: 90 Sandgate High Street, Sandgate, Folkestone CT20 3BY
Other shops in Sandgate.