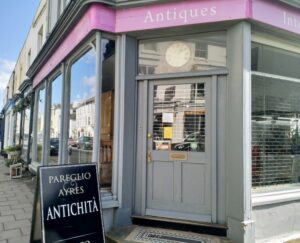 Pareglio & Ayres
Antiques and Interiors
Pareglio &  Ayres is an antique shop in Sandgate that Specialises in Italian and  English Antiques.  We sell luxurious furniture and interesting artefacts , which will add a statement to any room.  We also provide a complete interior design service that can transform home with elegance and finesse.
Based in on the high street in Sandgate and also in Milan. We import directly from Italy items such as Baroque carved items, Walnut tables and gilt frames.
In our Antique shop in Sandgate you will discover distinctive pieces such as vintage collectables, lamps, clocks and  other items that make a great addition to your home.
99 Sandgate High Street, Sandgate, Folkestone CT20 3BY
Phone:
01303 249099
07554 708628
You can Email us: warren@pareglioayres.com
Take a look at our online gallery www.pareglioayres.com
Other shops in Sandgate: https://sandgatebusiness.org.uk/category/businesses/shop/