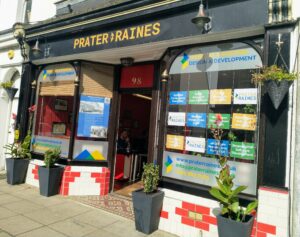 Prater Raines Ltd
website development company
Prater Raines is a website development company located in Sandgate high street. We create a wide range of websites from simple promotional websites to full online trading sites.
We are an experienced website development company developing cost-effective and professional web sites . Although we specialise  in easily user friendly and up-dateable websites we can additionally build online applications such as  for businesses, campaign organisations and charities. Furthermore, we also provide business management tools such as system consultancy.  We can  provide a wide range of  website services such as  WordPress hosting, domain registrations and email hosting.
Our approach to the design of your website will depend on your requirements and your budget. We are happy to develop design proposals for you in house, but we are equally pleased to work with design agencies and freelancers and deliver their ideas for your site. Our aim is to ensure your website looks good on everything from the largest screen to a mobile. We aim to  meet  the needs of your business and optimised for the user.
As a local website development company  located in Sandgate we welcome you to come in and chat with us about your website designs or technical issues. Drop in to discuss your online business needs over a no obligation coffee!
Our opening hours are 9am to 5pm Monday to Friday
98 Sandgate High Street, Sandgate, Folkestone CT20 3BY
Phone us 0345 363 7163
Email us on: info@praterraines.co.uk
Look at our website for more information on our services.
Follow us on Twitter: www.twitter.com/praterraines
Other services in Sandgate.