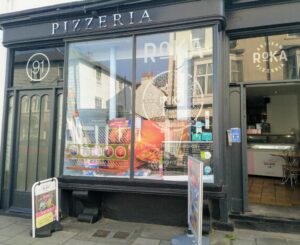 Roka Pizzeria
Takeaway
Roka pizza is a family-run artisan pizzeria delivery and takeaway based in Sandgate. The pizzas are authentic, handmade and stone-baked in our large wood-fired oven.
To be truly authentic, the pizzas are made using the traditional method of baking and using only high-quality ingredients. Therefore, we only use the finest and freshest ingredients, and are proud to partner with local farmers to promote sustainability within our local community.
We have a extensive and delicious section of desserts on offer such as Gelato, Nutella pizza, homemade Lemon cheesecake and homemade Banoffee pie and not to forget the Gluten Free Ricotta Pistachio cake! There is also a selection of delicious waffles such as Oreo waffle and the Black Forest waffle!
We have great offers available such as Milkshakes Monday and Waffle Wednesday. Milkshake flavours are extensive with a huge selection of tasty flavours like, Oreo, Nutella, Bubblegum and Candy Floss.
Order through the Roka app, FolkestoneEats or by calling 01303 257363.
Contact us through phone or our website, UberEats and Just Eat.
Daytime menu: 12pm – 5pm
Evening menu: 5pm – 11pm
Phone: 01303 257363
Address: 91 Sandgate High Street, Sandgate, Folkestone CT20 3BY
Email: rokasandgate@gmail.com
Other places to eat and drink in Sandgate