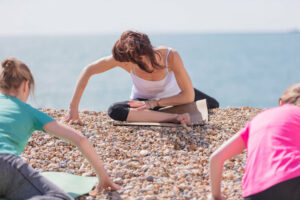 Sandgate Yoga Lodge
Yoga and Meditation
At Sandgate Yoga Lodge we work with all things natural. We aim to to focus on harmony and balance. We can offer a beautiful space to sleep for individual's in a shared space or a whole room.
I have taught yogic practises in the village for 3 years, and run Freedom and Foundation Yoga that aims to increase vitality and rejuvenate. We hold classes in the Yoga lodge and also on the beach in the summer. Many people are unaware that it's possible for them to join in with gentle movement, breathing exercises and meditation, here on their doorstep.
It's an activity that helps people with anxiety, stress, physical disorders such as digestion, achy bodies, builds immunity and calms the mind. It's also fun!
While everyone is coming out gradually from lockdown, feeling safe and being able to enjoy the summer days is where yoga is a constant benefit. The various sessions I offer are suitable for all aged 16 – 108 years old.
All activities are for health, fun, healing, restoration, well-being and growth.
There are yoga sessions for all. Monday to Friday 9.30am for 1 hour, further info and costs on our website.
Meditation hour Mondays 8-9pm, by donation only for all and Worriers Yoga on Fridays 8-9pm. Booking essential as limited spaces.
Sandgate Yoga Lodge is located at: 104 Sandgate High Street, Sandgate, Folkestone CT20 3BY
07889 495526
Other leisure services in Sandgate.