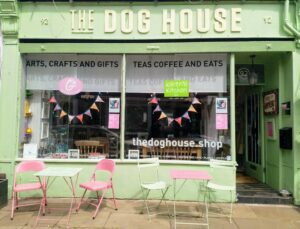 The Dog House
Crafts and Cafe
The Dog House is an Artisan cafe. All their food is freshly made and home produced by three generations of bakers and chefs. They serve anything from a full English breakfast, freshly made sandwiches and toasties to cottage pie, lasagne, beef stew, fish pie, Sunday roasts and hearty vegetable soups as well as regular Bistro Nights serving dishes like; Beef Bourguignon, Fish Chowder, Sweet Potato satay curry and Coq au vin.
The dog House also provides a selection of take-away hot drinks, toasties, toasted focaccia, sandwiches and homemade cakes.
The Dog House cafe supports and sells Arts and Crafts by local artists. They sell glassware such as Ann Blunt's beautiful fussed glass art and Rachel Hall's seaside inspired jewellery. The Dog House also has original paintings and a selection of mirrors for sale.
Call to get more information or to book on 07712 253188.
Opening hours:
Wednesday to Sunday 9:30am to 2:00pm Closed: Mondays and Tuesdays.
Phone: 07712 253188
Address: 92 Sandgate High Street, Sandgate, Folkestone CT20 3BY.
Email: david@thedoghouse.shop
Other places to eat and drink in Sandgate