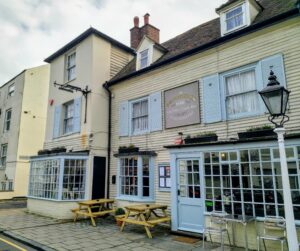 The Providence Inne
Pub / Restaurant
The Providence Inne is along the Sandgate high street. It is a country style pub in Sandgate, which has a real log fire in the colder months. The Providence serves real ales & a selection of wines.
The Providence Inne is serves great home-made dishes such as the classic burger which is served in a sour dough & onion roll. They also serve locally caught cod and chips, served with a home-made tartare sauce.
They pride themselves on quality and especially the Sunday roasts, such as the slow roasted topside of beef, roasted pork loin & crackling or roast chicken with all the trimmings.
The Providence Inne has a great atmosphere and a real log fire and great food and is a popular pub in Sandgate with the locals.
Opening hours:
Tuesday to Saturdays 12 pm – 11pm
Sundays 12 pm- 10pm
Phone: 01303 249962
Address: 47/49 Sandgate High Street, Sandgate, CT20 3AH
Other places to eat and drink in Sandgate.