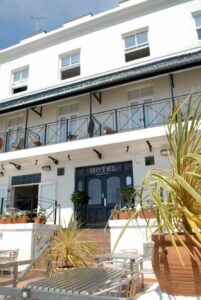 The Sandgate Hotel
Hotel / Bar
Due to Covid-19 restrictions the Sandgate Hotel is currently closed.
The Sandgate Hotel has a wonderful sea-view of the beach in Sandgate. It is located right on the sea-front in Sandgate. It has wonderful views overlooking the channel. The Sandgate Hotel has many rooms with balcony and a sea-view.
There is a terrace out the front which boasts fantastic views of the beach.
The Sandgate Hotel makes a great wedding venue as it is licensed for civil ceremonies.  There is also a function room available for private hire.
Phone: 01303 220444
Address: The Sandgate Hotel, 8-9 Wellington Terrace, The Esplanade, CT20 3DY
Email: info@sandgatehotel.com
Other places to stay in Sandgate.