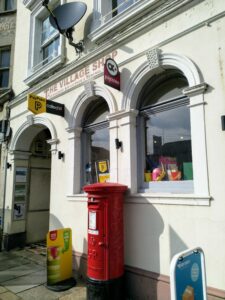 The Village Shop
Newsagent and Convenience Store
The Village shop in Sandgate is a general store stocking a huge variety of items. It serves as a Newsagent, off-licence, and Post Office. It sells grocery items such as eggs, bread, cheese and meats.  They sell fresh fruit and vegetables and also frozen foods.  There is also a huge selection of confectionery and cakes. The village shop has a variety of cold drinks from soft drinks to cider and local craft beers. There is also a vast selection of wines and spirits. This little store also has basic medicines and household items like batteries and toilet paper.
The Village shop serves as the hub in Sandgate as they provide practical services such as being a Pay-point for gas and electric. It takes Royal Mail letters and parcels and additionally there is a Hermes collect point. There is an automated Hermes point inside the shop.  There is also an ATM machine within the store.
They sell a wide range of newspapers and magazines, which they also provide a delivery service for. During the winter months the Village Shop can deliver wood and coal.
Opening hours: 7.30 am- 8pm
Phone: 01303 249572
Address: 76 Sandgate High Street, Sandgate, Folkestone CT20 3BX
Other Shops in Sandgate