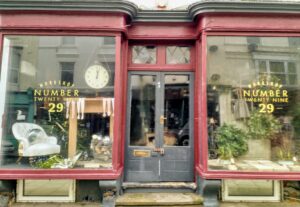 Workshop number 29
Workshop number 29 has just opened on Sandgate high street. It is a shop that sells antique salvaged items such for the home such as enamel signs, pictures and vintage lightning.
They have a seasonal shop with fresh handmade wreaths, Nordmann Fir Christmas trees, tied mistletoe and potted hyacinths in vintage ceramics.
There are lots of gift ideas such as a huge range of  homemade soaps made in Kent by  Bohemia & Flower. They also have hand dipped beeswax candles and hand dyed baby tights.
Workshop Number 29 are offering free local delivery on larger items.
Browse  their website for more items and their online seasonal shop.
Take a look at their Facebook page for more information or to contact them.
Address: 97 Sandgate High Street. CT20 3BY
Phone: 07789006003
Email: hello@workshopnumber29.co.uk
Opening hours:
Wednesdays – Sunday
Other shops in Sandgate