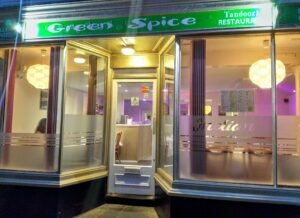 Green Spice
Indian Restaurant
Indian restaurant located in the village of Sandgate. Serving classical dishes Indian, Balti and Bangladeshi alongside more contemporary creations. Dishes are prepared authentically and freshly as they would in Indian homes with great attention to food presentation.
We cater for Vegetarians, and also have Vegan Options, Gluten Free Options. We also sell a selection of wines which complement individual dishes.
Opening hours:
Open 7 days a week including bank holidays.
Lunch: 11.30am – 2.30pm. Evening: 5.30pm – 11.30pm
Phone: 01303 210055 / 01303 221122
Address: 59 Sandgate High Street, Sandgate, Folkestone CT20 3AH
Email: Rafiqulhasan78@yahoo.com
Other places to eat and drink in Sandgate.