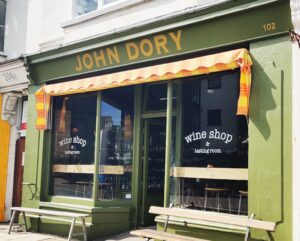 John Dory Wine
John Dory is a wine shop and tasting room on Sandgate high street. They have a seating area out the front
They sell wines that range from Burgundy, German Riesling, Northern Rhône, Piemonte, icon Tuscans, California, and proper dry Lambruscos.
John Dory offers wine by the glass from a range of more than 150 specialist wines. They can also provide free local delivery for customers.
Buy a bottle to take home or enjoy any of the bottles on the shelf inside their cosy tasting room, a corkage fee applies. John Dory regularly has special tasting events, get in touch with them to find out when the next one is.
John Dory also serves a range of food boards with a selection of cured meats and cheeses and local seasonal produce. There is also a range of quality food snacks such as Bret's crisps from Brittany, British tinned fish, and heritage meat charcuterie to choose from.
Keep updated with new products follow their social media.
Opening hours:
Mondays Closed (open August summer holidays)
Tuesdays: 5.00 – 22.00
Wednesdays: 5.00- 22.00
Thursdays to Saturdays : 11.00 – 22.00
Sundays: 11.00 – 20.00
Address: 102 Sandgate High Street. CT20 3BY
Telephone: 01303 251937
Email: hello@johndory.wine
Other places to eat and drink in Sandgate.