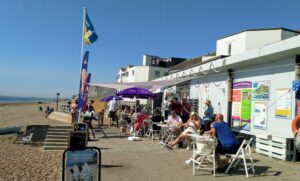 The Boat House
Cafe
The Boat House is a seaside cafe located right on the promenade in Sandgate. The cafe offers a great selection of toasted sandwiches, breakfasts, cakes and ice-creams. There is even dog friendly ice creams on offer!
This is a proper seaside cafe, there are tables outside overlooking the beach. It is great place to sit and take in the views. A great place to stop and take a break if you are cycling from Hythe to Folkestone.
Even on misty days this cafe can provide blankets and warm pebbles to watch the waves.
Other places to eat and drink in Sandgate