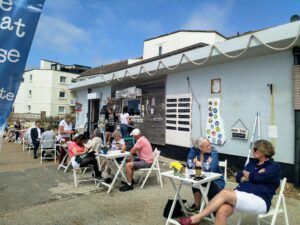 The Boat House
Cafe
The Boat House is a seaside cafe located right on the promenade in Sandgate. The cafe offers a great selection of toasted sandwiches, breakfasts, cakes and ice-creams. There is even dog friendly ice creams on offer! The Boat House sells fresh vegan cinnamon buns, made by @wilder.buns.
This seaside cafe has tables outside overlooking the beach, which makes it a great place to sit and take in the view. A great place to stop and take a break if you are cycling from Hythe to Folkestone.
Even on misty days this cafe is a welcoming place to watch the waves.
Check out their Facebook page.
Other places to eat and drink in Sandgate