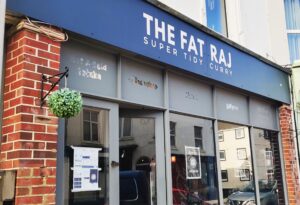 The Fat Raj
Super Tidy Curry in Sandgate! The Fat Raj is a new curry house in Sandgate that has a great new way of personalising your curry to suit your taste.
The Fat Raj serve a wide variety of delicious Indian dishes fresh to order. They make fresh homemade starters such as onion bajais, samosas and king prawn puri.

Choose from different curries from Madras, Rogan, and Dansak to the House Favourites. Or you can build your own curry to suit your taste and go large for an extra £2.
The Wok Box offers you the choice of noodles or biryani which you can add your own flavour. The Tandoori House offers different meats cooked in their South Asian clay oven.
Opening hours:
Monday – 5pm -10 pm
Tuesday – 5pm -10 pm
Wednesday – 5pm -10 pm
Thursday – 5pm -10 pm
Saturday – 5pm -10 pm
Phone: 01303 770849
Address: 94 Sandgate High Street CT20 3BY Folkestone, Kent
Email: eat@fatraj.com
Make an order on Just Eat
Other places to eat and drink in Sandgate.