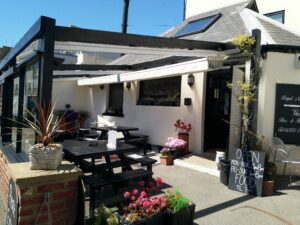 The Royal Norfolk Hotel
Hotel / Restaurant / Bar
The Royal Norfolk Hotel is located close to the beach in Sandgate. The Gees bar has a lovely sun terrace which overlooks Henry VIII's 15th century castle. The sun terrace is open daily, weather permitting. The Gees bar is dog friendly and serves a small selection of bar snacks.
The hotel is a 2 minute walk to the beach and has a selection of Superior and Standard Rooms. All the rooms are located on the 1st and 2nd floor and there is no lift. The rooms are en suite with LCD TV, with tea & coffee making facilities, complimentary toiletries, and Wi-Fi. The hotel also offers room service and has private off-road parking. The Gees bar serves a selection of bar food such as nachos and burgers
The Royal Norfolk now serves a Sunday carvery menu.
Two courses for £20
Three courses for £25.95
Quiz nights on Wednesdays!
Check out our Facebook page for events and updates.
Phone: 01303 248262
Address: The Royal Norfolk Hotel, 7 Sandgate High Street, CT20 3BD
Email: theroyalnorfolk@gmail.com
Book a hotel room.
Other places to stay in Sandgate.
Other places to eat and drink in Sandgate.