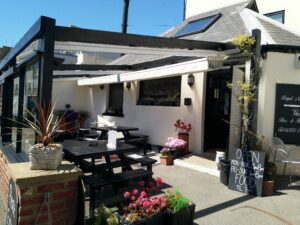 Hotel / Restaurant / Bar
The Royal Norfolk Hotel is located close to the beach in Sandgate. The Gees bar has a lovely sun terrace which overlooks Henry VIII's 15th century castle. The sun terrace is open daily, weather permitting. The Gees bar is dog friendly and serves a small selection of bar snacks.
The hotel is a 2 minute walk to the beach and has a selection of Superior and Standard Rooms.